Smart Login for Windows
Smart Login allows workstations to login to a Smart-Net server without having to join a domain. Smart Login is suitable for both laptops and desktop PC's.
Users can have their own custom wallpaper displayed
Installation and setup can be totally automated
Fully supports logging in to a Smart-Net server and other Windows domains
Avoids the need to join a workstation to the domain to be able to login to a server
Smart Login can be configured to support multiple servers and domains
User profiles are not synchronized every time you login
Smart Login has been tested and works on the following operating systems:
Windows Vista, 7, 8, 8.1, 10
Windows Server 2003 - 2016
NOTE: For Windows 7 machines, the User Account Control settings will need to be turned off. To do this, click on the start button and type UAC. Under "Results", click on "Change User Account Control Settings'. Move the bar right to the bottom to never notify and click OK. You will need to restart your machine before.
Double left-click on the Smart Login set up program to start the installation process. You will be presented with a setup wizard leading you through several screens.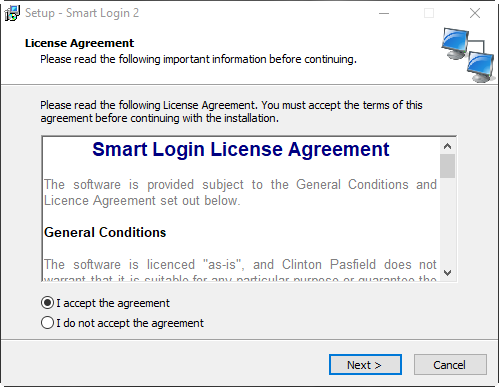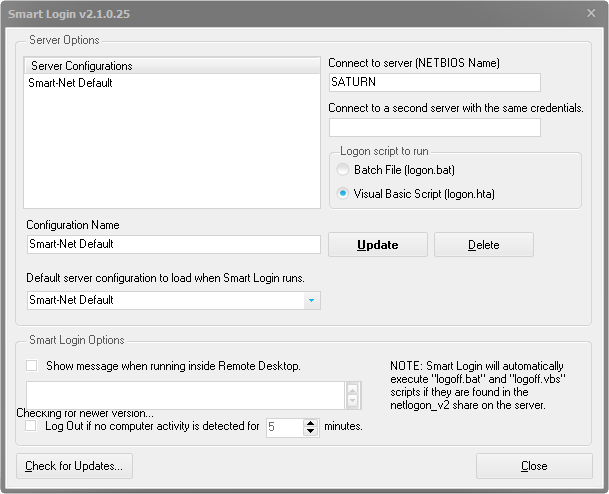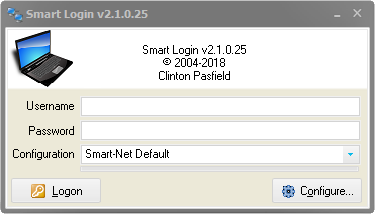 Configuring Smart Login
You may need to configure Smart Login if your server's name is not the default setting of SATURN.
To configure Smart Login for a different server, select the Smart-Net Default configuration and enter the server NETBIOS name appropriate for your site.
If your server is running Smart-Net 3.0 or later, also select the "Visual Basic Script (logon.hta)" option. Click the Update button to save your changes.
Using Smart Login
Enter your Username and Password and ensure the correct configuration is selected. After you have entered your credentials click the Logon button.
After logging in, Smart Login will minimise itself to the System Tray area in Windows (bottom right corner of your screen).

A single left-click on the Smart Login icon in the system tray will show details and login status of the user logged in. To logoff from the network, click [Log Off] from the Smart Login window.